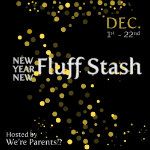 I am participating in the New Year, New Fluff Stash Cloth Diaper Giveaway Event. This event runs from Dec 1-22nd, 2012. There are 11 sponsors, so please come back everyday for more prizes and entries.
For today our prize is
Rockin' Green
.
Here's the details below:
Rockin' Green was founded in 2009 and is an award-winning manufacturer of eco-friendly cleaning products designed to make cleaning easier and greener. Most well-known for their clean-rinsing laundry detergent formulated for use on all fabrics and especially useful on cloth diapers, Rockin' Green produces detergents for hard, soft and normal water conditions (known as Hard, Soft and Classic Rock varieties)
.
Giveaway open to US & Canada, ends December 23, 2012 at 12:01 am est.
Check out to
Rockin' Green
see more details.
Special Thanks to
We're Parents!?
for organizing this great giveaway!